As 2023 quickly approaches, you may be wondering what mattress to switch to in the new year. From finding one that fits your unique sleep style to getting one that falls within your budget range, there are many factors to consider before purchasing a mattress.
But, have you considered getting a mattress with integrative technology?
In today's article, we are going to deep dive into one mattress brand that uses patented technology in all of its mattress products to give sleepers of all ages and types the innovative sleep they need.
What is this mattress brand you ask? Let's talk about the brand, Personal Comfort™, a better number bed.
About Personal Comfort™ Mattress
Have you ever slept on a bed that was too firm, or too soft? Maybe you're someone who likes to sleep really warm, or really cool. We've all been there. And no matter how hard we try to make our beds just right for us, sometimes it just doesn't work out.
But now there's a solution: Personal Comfort™ mattresses at Best Mattress in Las Vegas. NV, and St. George, UT.
Established in 1972 (and a sister company of American National Manufacturing, Inc.), Personal Mattress combines both high-quality materials and the latest technology to give sleepers an unmatched sleep experience.
What makes Personal Comfort™ mattresses unique?
Personal Comfort™ mattresses use patented technology in every mattress to allow sleepers to completely personalize their sleep experience from head to toe. Using both Bluetooth compatibility and remote technology, sleepers can choose from 45 unique settings to control the airflow in their mattress. (Also, making slight adjustments to the mattress can help sleepers have better overall blood flow and circulation!)
Personal Comfort™ goes much much further. Here are the key benefits of each and every Personal Comfort™ mattress.
The Personal Comfort™ Difference
We know that a good night's rest can make all the difference in your day, and that's why all of us here at Best Mattress in Las Vegas has spent so much time researching the best mattresses on the market today. And, when we found the company Personal Comfort™, we couldn't help but want to share more!
Here are some of the factors that give Personal Comfort™ a cutting edge above other mattress brands.
Bluetooth Connectivity
Did you know that each Personal Comfort™ mattress comes with Bluetooth connectivity?
That means you can use a smartphone app via IOS on Android to change the airflow of the mattress—or even turn it off completely. (It's all about your personal comfort, after all.)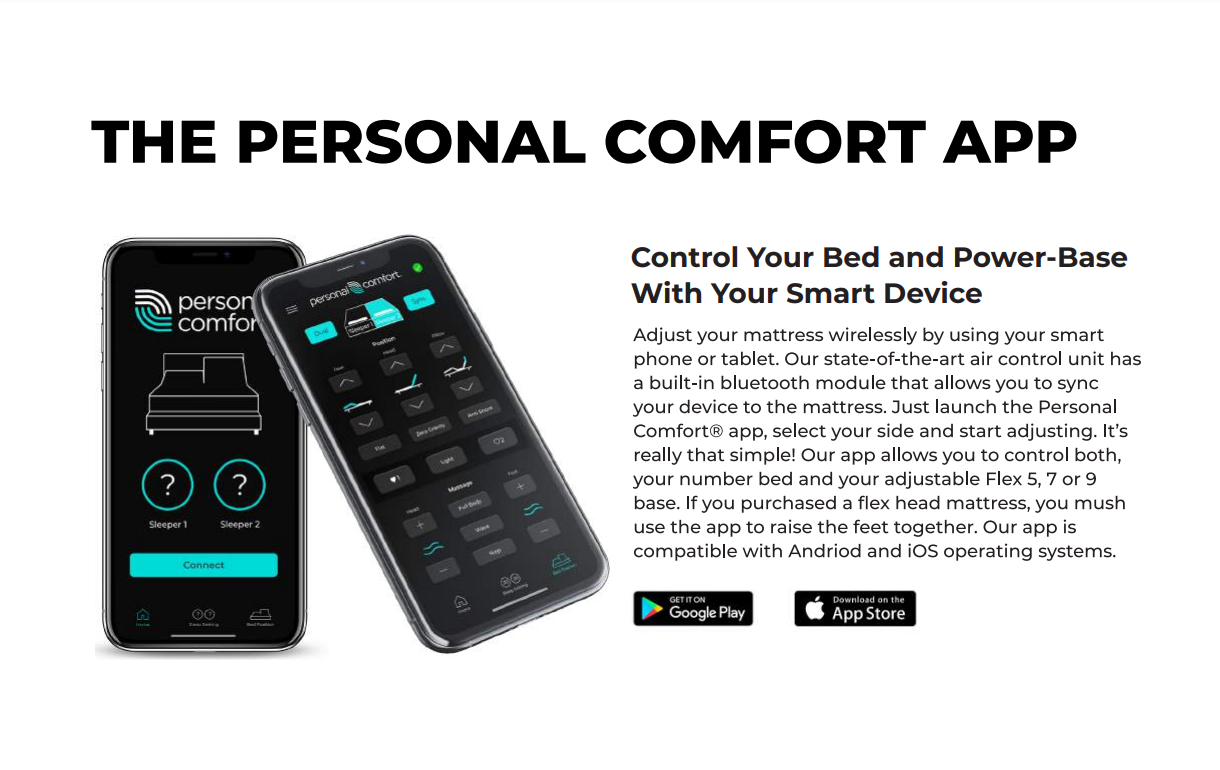 2-Zone Personalization
If you're like us, you may love to switch it up.
Whether it's in bed or out of bed, we believe that everyone should be able to find a comfortable position for themselves. That's why Personal Comfort™ gives each person the ability to individually personalize their side of the mattress to their desired level of support.
The 2-Zone technology consists of a left and right zone within the mattress, so you and your bed partner can have a personalized sleep experience. This means you no longer have to choose between a soft or a firm mattress. You can have both!
Interchangeability
Did you know that every Personal Comfort™ mattress is interchangeable? Yes. You heard that right. Each premium mattress has both upgradeable and downgradeable components so that you'll never have to buy another mattress again.
From the top cover to the center panel and air control unit, you can mix and match your mattress's components to fit your sleep needs. You can even change out just one component at a time if you want to experiment with different combinations before committing to a whole new setup!
So if you want a firmer mattress, simply replace the top cover with one of the firmer options. If you want a softer bed, just swap out the center panel for one of the softer ones!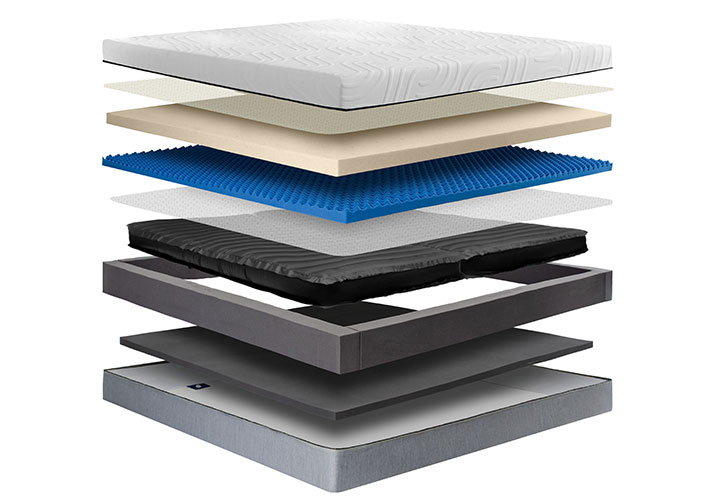 Patented Comfort Layers
With a variation of comfort layers to select from, Personal Comfort™ mattresses have layers that give sleepers the contouring support and comfort they need to go to sleep (and stay asleep).
Some of their most popular comfort layers include the Copper Infused Energex™ comfort layer and the ThermaPhase Gel™ comfort layer. Let's take a look at both:
Copper Infused Energex™ Comfort Layer
Designed to soften in response to body heat, the Energex™ material gives you both adaptive support and pressure relief to help you sleep soundly throughout the night.
Exclusive to the Rejuvenation Series models, this comfort layer brings you the refreshing sleep you need to thrive in your day-to-day activities. Both made in the U.S.A. and CertiPUR-US®, this durable, accredited layer is perfect for those who want peace of mind about the mattress they are purchasing.
ThermaPhase Gel™ Comfort Layer
Made to create a temperature-neutralizing sleeping surface, the ThermaPhase Gel™ Comfort Layer uses an open cell structure that is infused with a gel material to absorb body heat so sleepers don't wake up too hot—or too cold.
Do you have problems getting proper circulation throughout the night?
This layer also helps maintain your blood circulation, regardless of your sleep position. You can find this comfort layer inside all of the Elegance series models.
Explore Personal Comfort™ with Best Mattress
It's no secret that Personal Comfort™ is revolutionizing the mattress industry.
Not only do they offer technologically designed, highly-comfortable mattresses, but their state-of-the-art design allows interchangeability which enables sleepers to swap out their old comfort layers for new ones—easily! (This is huge.)
So, if you're looking for a mattress that you can keep for a lifetime. Personal Comfort™ is for you.
Are you ready to select a mattress that is as innovative as you? Try out a Personal Comfort™ mattress today to witness the difference yourself! Use our store locator to find a Best Mattress location closest to you.