Information about the Best Mattress Liquidation Centers in Las Vegas, NV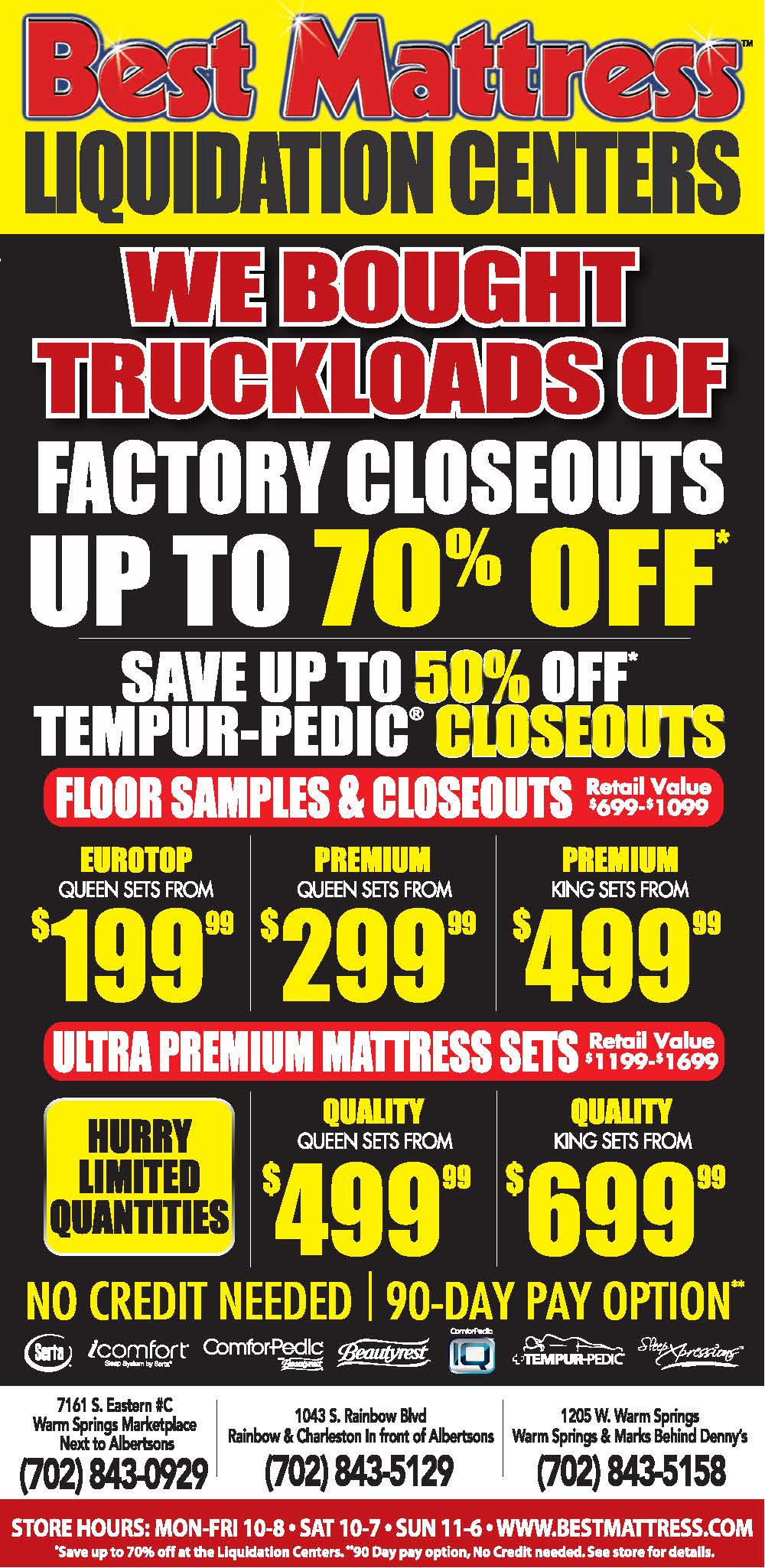 Best Mattress Liquidation Centers In Las Vegas!
Best Mattress has solidified its place in Las Vegas as the number one dealer for a variety of well-known mattress brands. In large part, we have achieved this through our commitment to you the customer. Our sleep experts are highly trained, and their number one goal is not to sell you something but to help you find a mattress in your budget that will improve your sleep and help improve your overall well being. At Best Mattress we are always trying to improve our ability to offer high-quality products that will make a big difference in your life, at the best possible price. This is precisely why we have opened liquidation centers conveniently located around the Las Vegas area.
Our goal is to introduce as many people as we can to the best possible mattress within their budget, which is why we bring in truckloads of beautiful, high-quality factory seconds. These mattresses often just have minor cosmetic defects which can't be seen once regular bedding is placed on them. Our liquidation centers also carry showroom floor samples and closeout items. Many of the products sold at our mattress liquidation centers in Las Vegas are brand new and have never been slept on or used! Pricing on these products can often be half or even less of what you would typically pay for them at full retail price.
What Are Factory Closeouts?
Factory closeouts occur when our mattress manufacturers, like Serta or Tempurpedic, need to unload merchandise to make room for new merchandise. This will usually happen after a holiday or after a sales season. Selling factory closeouts like this allows customers to get a high-quality product at a great price and allows the factory to clear out their excess product. Prices are generally steeply discounted in order to encourage people to purchase these items quickly. Even though a factory is clearing out it's older items, those items are likely not that old at all in comparison with what most of our customers have been sleeping on for years and years.
New Vs. Closeout?
What is a "last year's model?" Simply put it's a model that is no longer the newest. In terms of mattresses, however, it really could be a discovered gold mine, as in additional savings! For most people the color or fabric or model year doesn't matter. All that matters is that you're uncomfortable on your old mattress and you need a new one, so here are what to check and the questions to ask. Is it brand new, fully warranted and comfortable? Can the dealer prove that it sold for more than you are buying for? Why is it discontinued? Generally, they're being sold because of the typical transition between model years. With mattresses, the technology is still good from year to year. Unlike a car the value is not less because it's a year older, our stores and factories just need to make room for the newest product coming in.
Are you missing out on anything by buying a closeout item versus a new item? Most often the answer to that is no. You may find that the hottest selling items might not be available or that there may not be the wide selection in inventory that you would find at one of our many retail stores. Even though its a liquidation store, you will still get to take advantage of many of the fantastic benefits of our other retail centers. Some of those benefits include:
Sleep Experts: Best mattress has some of the most qualified sleep experts in the industry. We put them through extensive training so that they can assess your needs and find you the best possible option for you within your budget.
Best 120 Day Sleep Guarantee: Selecting a new mattress is a very important decision. At Best Mattress we know how important a good night's sleep is and we guarantee that you will sleep comfortably on your new mattress. If you are not satisfied with the comfort of your mattress within 120 days of your purchase, we will do whatever we can to make sure you are sleeping well. Best Mattress is committed to helping you find the right mattress and to your healthy night's sleep.
Best Delivery Service: We deliver 7 Days a week and Same Day Delivery is usually available. We take care of two of the most frustrating parts of buying a new mattress with free in Home Set-up and free Removal of your old Mattress set. We always use professionally trained delivery experts. All of our delivery experts are employees of Best Mattress. No contracted delivery services. All of our delivery experts are employees of Best Mattress!
Come visit one of our Best Mattress liquidation stores today! Our highly qualified and very friendly Sleep Experts are ready to help you find the best sleep of your life at a price you can't resist!