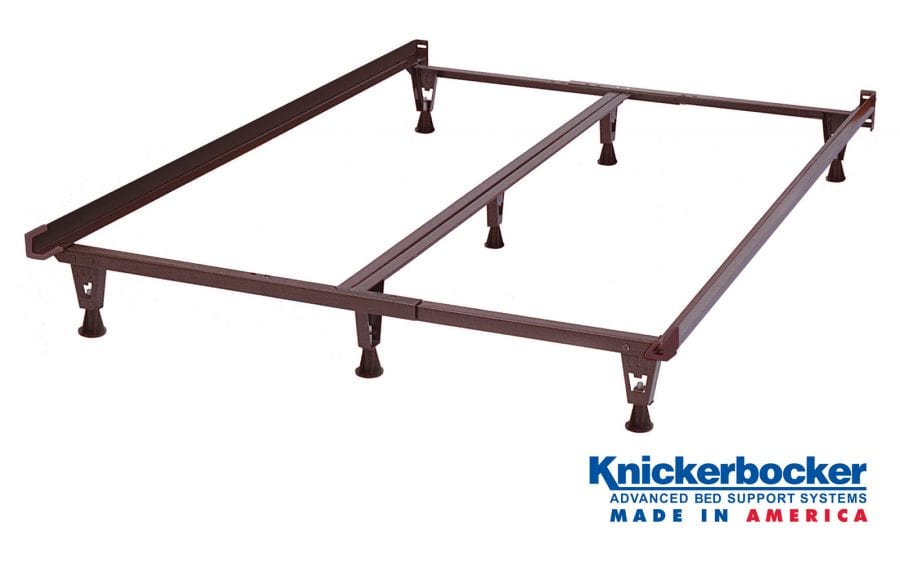 Designed to be the strongest, most durable bed frame available, The Monster™ Bed Frame by Knickerbocker is in a class of its own. With welded two-inch side rails and 5-in-1 construction, this heavy duty bedframe will be with you for the long haul. Here are just a few other features offered by this incredibly durable bed frame.
Incredible Strength and Stability
Your mattress set needs stability and support to function like it should, which is why people trust The Monster™ Bed Frame from Knickerbocker. Instead of traditional 1" side rails, The Monster contains impressive 2" side rails that double the strength of the frame. The center support beam of The Monster is composed of a full spectrum, double angled iron to offer an unparalleled level of support. Because of this impressive engineering, The Monster™ Bed Frame is the strongest bed frame on the market today.
Patented, Reinforced Steel Construction
To protect your mattress set, every Knickerbocker bed frame is made with cold-rolled steel from the Jersey Shore Steel Company. This recycled railroad steel is incredibly strong and riveted, helping people to sleep soundly without worrying about things like excess noise. In fact, Knickerbocker frames have a patented design that has been shown to be twice as strong as traditional iron bedframes.
Your Choice of Glides or Rollers
Each Monster™ Bed Frame comes with your choice of either 7 supportive foot glides or 4 rollers, allowing you to customize your bed frame to meet your needs. The foot glides are designed to sit against the floor firmly to eliminate movement, while sliding across carpet, hardwood, or tile easily. Rollers make it even easier to move or adjust your bedframe, speeding deep cleaning and rearranging.
Simple Assembly
Knickerbocker bedframes are also famous for their simple, straightforward assembly. The Monster™ Bed Frame is made with Klik-Loc system, making it easy to adjust the size of your bedframe without using tools or worrying about spreading.
Made In America
Knickerbocker believes in creating a stronger America, which is why all of their bed frames are completely fabricated and assembled in the United States. In addition to creating jobs and strengthening the economy, Knickerbocker is focused on using sustainable and environmentally friendly manufacturing practices.
Best Mattress: Your Source for Knickerbocker Frames
Best Mattress is completely dedicated to offering the best mattress sets, accessories, bedding, and bed frames in Las Vegas, which is why they are proud to offer Knickerbocker bed frames. For nearly 100 years, Knickerbocker has been creating state-of-the-art steel bedframes that people can count on. In addition to being a completely family owned and operated company, Knickerbocker stands behind their products. If you are interested in upgrading your bed frame, visit a Best Mattress near you to explore their inventory. With an impressive selection of bed frames, straightforward financing, and convenient delivery options, Best Mattress makes it easy to upgrade your bedroom.