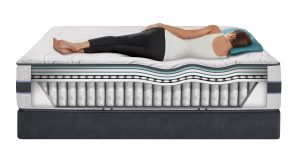 Serta has been known for over 85 years for offering innovative, quality mattresses and other products, which is why Best Mattress is a proud supplier of Serta mattresses. Our showrooms offer an impressive array of Serta products, including several types of iComfort Hybrid® mattresses.
When it comes to mattress shopping, most people assume that they have to choose between a traditional innerspring mattress and a new-age foam version. However, Serta has combined these two mattress varieties to provide a mattress that offers an unparalleled level of comfort: the iComfort Hybrid®.
The iComfort Hybrid® contains a durable innerspring support system, layered with Serta's innovative memory foams. The combinations of these materials helps to increase support while simultaneously reducing pressure points. Available in a wide range of models and price points, there is sure to be an iComfort Hybrid® that meets your preferences and budget. Here are just a few of the features available in hybrid Serta mattresses in Las Vegas.  
Duet® Coil System
The iComfort Hybrid® is supported by a revolutionary Duet® Coil System at the mattress base. This coil system is unique because it contains individually wrapped coils that are designed to reduce noise. Each coil operates independently to minimize motion transfer, helping you to sleep soundly even if your partner tosses and turns in their sleep. The Duet® Coil System offers responsive support that conforms and contours to your body without being uncomfortable or intrusive. Created with durable materials, the Duet® Coil System is made to last and last, supporting your body each and every night.  
Comfort Right® Layers with PillowSoft® Foam
To minimize pressure points, the iComfort Hybrid® is designed with Comfort Right® Layers and PillowSoft® Foam. These layers are created to be breathable and incredibly soft, cushioning every part of your body in an even, comfortable way.
Cool Action™ Gel Memory Foam
One of the biggest complaints people have when sleeping on older memory foam mattresses is the lack of breathability. Since memory foams consist of millions of moveable cells that respond to heat and pressure, older versions tended to move together, trap air and moisture, and make the sleeper feel hot and clammy.
However, Cool Action™ Gel Memory Foam is designed to be incredibly breathable and to keep you feeling crisp and cool between the sheets. Cool Action™ Gel Memory Foam wicks away more than 12 times more heat than traditional memory foams, helping you to stay comfortable. Cool Action™ Gel Memory Foam also feels cool to the touch, making your sleeping area feel brand new every time you roll over in bed.
EverFeel® Triple Effects™ Gel Memory Foam
Mattresses made with traditional memory foams tended to over-compress and spring back slowly, creating uncomfortable dips and divots in the sleeping surface. To solve this problem, Serta created EverFeel® Triple Effects™ Gel Memory Foam infused with Titanium gel beads that spring back faster and dissipate heat more evenly. EverFeel® Triple Effects™ Gel Memory Foam is also designed to "remember" your body temperature, keeping your bed the perfect temperature as you sleep.
Best Edge® Foam Encasement
Mattress springs tend to loosen with age, which can make the edges of mattresses uncomfortable or completely unsupportive. This can be hard for people who tend to sit on the edge of their bed when they get dressed or put on their shoes, or people who like to sleep near the edge of their bed, as loose springs might make it easier to unintentionally fall off of your bed. However, the the iComfort Hybrid® contains Best Edge® Foam Encasement, which helps the edges of your bed to stay comfortable and incredibly supportive.
If you are interested in exploring the iComfort Hybrid® series, visit a Best Mattress showroom near you. With 21 locations, Best Mattress is sure to have the Serta mattress in Henderson or the Serta mattress in St. George that you are looking for.