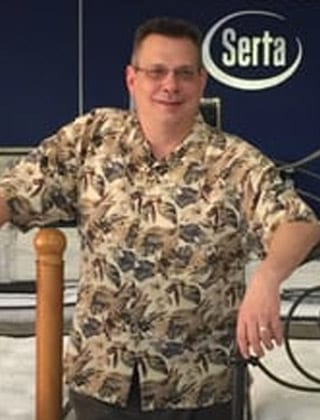 Meet the Manager
Dan will provide you with great customer service while helping you select the right mattress for you. He is a sleep expert that specializes in Serta, Simmons, Tempur-Pedic, & Five-Star brands. He knows all the details about Simmons products. Whether you are looking for a BeautyRest Black, Silver or Platinum, he is the guy. Serta's Perfect Sleeper & iComfort definitely fall within his expertise. He can pair any brand with the adjustable base of your dreams at a low price with all the protective accessories that make your sleep the best!
With so many locations to choose from throughout the Las Vegas area, there is sure to be a Best Mattress location near you. Our Decatur store is located in the front of the Shadow Mountain Market Place, just off the Bruce Woodbury Beltway. Simply take the Decatur Boulevard exit on the north side and then take the first street on your left. Whether you are out shopping for the day or taking a lunch break from work, our convenient location makes it easy to find the right mattress, in a time-frame that works best for you. And if you find the mattress you like, we provide same day shipping so you don't have to take it home yourself!
Our Decatur Boulevard location boasts an excellent staff of trained and qualified individuals who are fully prepared to answer any questions you might have. Each of our staff members is well-educated on each kind of mattress we carry so that you can make an informed choice. We will take the time needed to listen to your questions and concerns so that we can truly understand your needs. This will enable us to efficiently help you find exactly what you are looking for.
Getting a good night's rest is extremely important to both the body and mind, and every person's sleep habits and needs are different. That is why we carry a comprehensive selection of mattresses to fit your needs. We have a mattress that is right for your sleep style, firmness and material preferences and your wallet. Our low price guarantee ensures that you can find the quality mattress you deserve, without breaking the bank!